Le Dogs Beanocks
---

Le Dogs Beanocks – The Ultimate Dog Bed
Proudly and lovingly made in the U.K., Le Dogs Beanocks is the ultimate dog bean bag bed:
Instantly warm
Soft and comfortable
Waterproof
Easy to clean
Refillable
Lightweight
The high quality, thick and removable fleece outer cover instantly feels warm, soft, cosy and comforting. The fleece can be easily removed, washed at 40° and quickly dried. It can even go in the tumble drier. It retains its smart finish and pilling is inhibited due to its superior quality. Dog hair can be removed simply between washes with a pet brush or comb, or wipe with a damp rubber glove.
Le Dogs Beanocks fleece colours available:
Captain Blue
Poppy Red
Fuchsia Pink
Stuart Tartan (seasonal limited edition for Christmas)
Watch this space for the new Spring/Summer '15 limited edition collection!
FREE SPARE COVER in the colour of your choice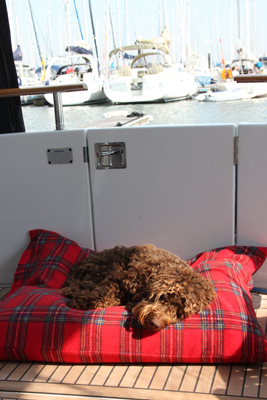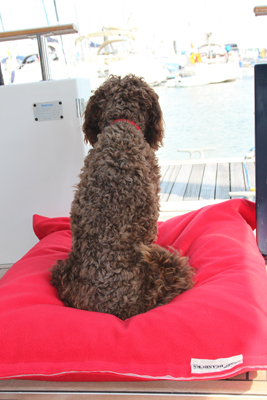 The waterproof inner bag is constructed from a woven, high spec technical marine fabric – the same as our LE BEANOCK COLOURS range, frequently used for outside projects in all weathers and, as such, is extremely strong and durable. To clean, simply wipe over with a damp cloth, as and when needed.
Inside, are the 'beans' – fire retardant polystyrene pellets. Ideal as a comfortable filling, these pellets are lightweight, bacteria inhibiting and are great for allergy sufferers. The bed can be easily refilled or topped up, via a cleverly designed Velcro opening, if the need arises. Alternatively, the bed can be filled with foam chippings for older dogs or dogs with joint or other health problems.
I've been lucky to have had dogs all my life and made my first dog bed when I was 10 years old – a padded sleeping bag for our Jack Russell, 'Podge', so she had a sleeping bag like the rest of our family on our camping holidays. She loved it! All these years and beloved friends later, I'm delighted to have designed and developed what I believe to be the best dog bed around, and at a realistic price.
Extra fleece covers are available – Look out for our LIMITED EDITIONS coming out later in the year!
Le Dogs Beanocks – Total Comfort – Ideal for:
Indoor dogs
Outdoor dogs
Camping dogs
Caravanning dogs
Sailing dogs
Old dogs
Puppy dogs
Poorly dogs
Le Dogs Beanocks are sold FLATPACKED (without beans):
Cheaper to buy – free shipping to you, worldwide
Kinder to the planet – less packaging and a smaller carbon footprint
We can offer Le Dogs Beanocks complete with beans and free local delivery (within a 15 mile radius)
Le Dogs Beanocks sizes:
Small – 72cm x 72cm         £65.00         Including a FREE SPARE COVER
Medium – 100cm x 78cm    £100.00       Including a FREE SPARE COVER
Large – 150cm x 100cm      £150.00       Including a FREE SPARE COVER
Bespoke sizes of Le Dogs Beanocks can be made to order
Extra covers are available:
S      £25
M      £35
L       £55
The ultimate 'everlasting' dog bed – really is Le Dogs Beanocks!