LE BEANOCK IS HANDMADE BY ARTISANS IN THE UK
WHAT IS LE BEANOCK?
LE BEANOCK is part beanbag, part hammock. LE BEANOCK combines the unique experience of the weightlessness of a hammock with the comfort of a beanbag. You become enveloped in comfort and any stress is quickly soothed away… you will experience the true meaning of relaxation in LE BEANOCK.
LE BEANOCK is perfect for – inside  outside  poolside  fireside  hotels  offices  basements  lofts  man caves  kids' rooms  teenagers' dens  tree houses  narrow boats  beach huts  log cabins  ski chalets  work and home.
LE BEANOCK is purchased FLAT-PACKED with FREE WORLDWIDE SHIPPING, so the beans & chains can be sourced in the buyers country.
UK customers please contact us if you wish to purchase beans and chains from us.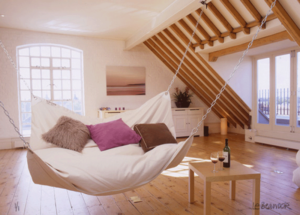 LE BEANOCK SIGNATURE –
BUY NOW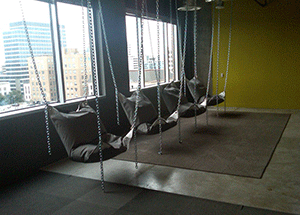 LE BEANOCK COLOURS –
BUY NOW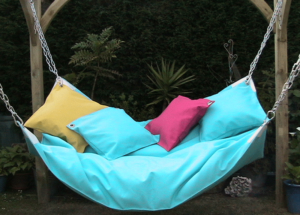 LE BEANOCK POP! –
BUY NOW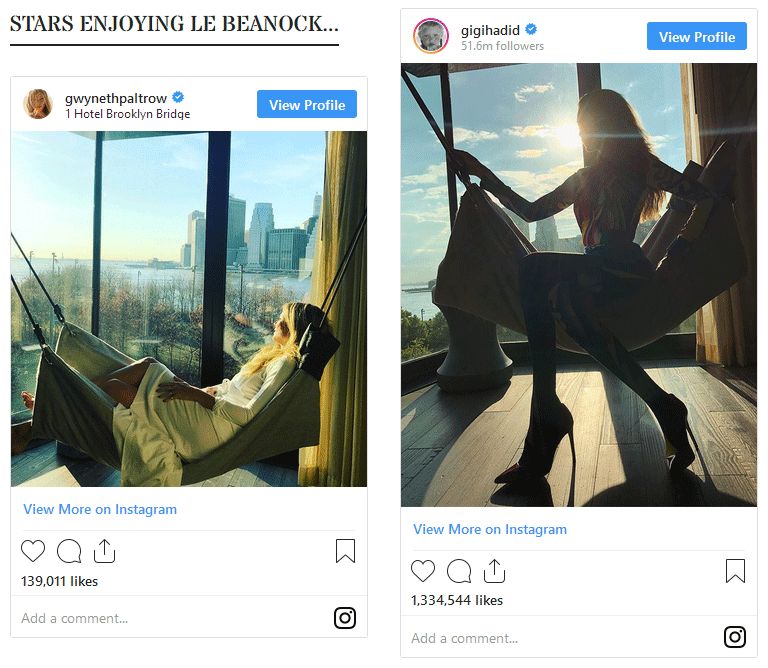 "So, Ok Tracie, how would you describe LE BEANOCK?
Tracie: Well, LE BEANOCK is a hanging beanbag, a beanbag hammock, a beanbag and a hammock and… a hanging chair!
Ok, so, LE BEANOCK is a hanging beanbag, a bean bag, a beanbag hammock, a hammock and a hanging chair?
Tracie: Yes! AND! a hanging sofa, a great gaming chair and wonderful for Special Needs!
Hold on, hold on, so you're saying, it's a hanging beanbag, a beanbag hammock, a beanbag, a hammock, a hanging chair, a hanging sofa, a great gaming chair AND wonderful for Special Needs?
Tracie: Oh yeah! And, a hanging bed, a swinging garden chair, and porch swing!
So LE BEANOCK is ALL THESE THINGS? A hanging beanbag, a beanbag hammock, a beanbag a hammock, a hanging chair, a hanging sofa, a great gaming chair, wonderful for special needs, a hanging bed, a swinging garden chair, and a porch swing? Any thing else?
Tracie: Yep! LE BEANOCK is contemporary furniture, funky furniture and UBER COOL!
So, to round it all up, LE BEANOCK is a hanging beanbag, a beanbag hammock, a beanbag a hammock, a hanging chair, a hanging sofa, a great gaming chair, wonderful for special needs, a hanging bed, a swinging garden chair, and a porch swing, it's contemporary furniture, it's funky furniture and yes we agree…
"LE BEANOCK IS UBER COOL"