LE BEANOCK CUSHION
Our colourful range of LE BEANOCK CUSHIONS are a wonderful way to match or complement your LE BEANOCK. Available as plain, or with one or two eyelets to attach to your LE BEANOCK.
LE BEANOCK CUSHIONS are sent FLAT-PACKED and supplied without the inner hollow fibre pad, which can be sourced from local suppliers in your area.
PLEASE NOTE: COMPLETED CUSHIONS ARE ONLY AVAILABLE TO BUY WHEN PURCHASED ALONG WITH A READY-MADE LE BEANOCK
Measuring 0.61m x 0.61m
RANGE

first select your range..
Add to Wishlist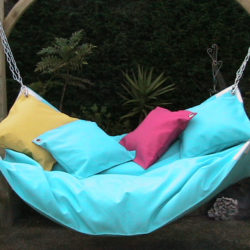 LE BEANOCK
LE BEANOCK POP! Introducing our new range of colours - LE BEANOCK POP! Taking inspiration from the iconic 1960's British POP art culture, we have made LE BEANOCK POP! For that fantastic POP of colour you need in your life! LE BEANOCK POP! is available in 9 exciting statement colours and can be matched or contrasted with our gorgeous POP cushions! LE BEANOCK POP! is made in LARGE, 2 m x 1.50 and SMALL, 1 m x 1.50 m, in our NEW special acrylic canvas, which is suitable for both indoor and outdoor use. Fantastic for family rooms, gardens, and of course teenagers and children's rooms as well as any project that needs that extra WOW factor POP! of colour!Just in time for the sun to POP out!